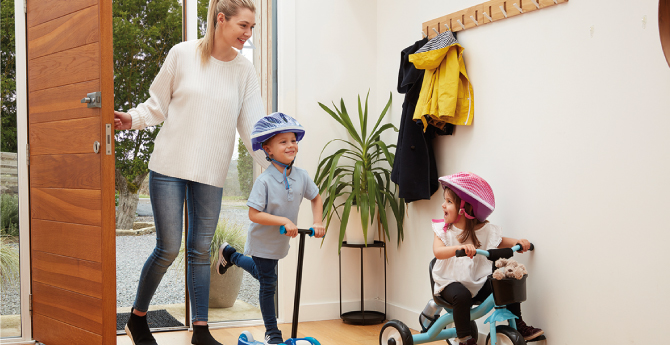 Airtightness: The key to creating comfortable homes
If you're looking to create a truly comfortable home for your customer, then you should definitely be considering airtightness levels. Homes that are more airtight can be enjoyed throughout the year, as they stay warm and cosy in the winter, stop draughts on windy days, and even help to reduce noise pollution!
When talking to a customer about the benefits, it's also a good idea to mention that any additional steps you need to take around airtightness will help them cut down on their heating bills and energy usage in the long-term. This can lower CO2 emissions too, which is key in making sure we hit the net zero carbon target by 2050, as set by the government.
It's not all about comfort and money saving though. Meeting certain airtightness levels will soon be a legal requirement for new builds, as part of the upcoming changes to Part L regulations. In fact, from June 2022 all new builds will start undergoing testing in this area, so it's important you know which products you need and how to use them to help you pass with flying colours.
Airtightness when drylining in new builds
If you're drylining in a new house, for example, a parge coat will need to be applied to the internal brickwork first. This will help your project conserve energy and support airtightness levels that comply with the upcoming changes.
So, how does it work? A parge coat is a cementitious or polymeric mortar which is applied as a thin layer. It ensures that any hard-to-see cracks, gaps or incomplete mortar joints within the brickwork are effectively sealed off before you go ahead and lay the plasterboard.
Gyproc SoundCoat Plus by British Gypsum is one great parge coating that can be applied on aircrete blocks, as well as aggregate. This product also significantly helps improve the acoustics of a property, as the airtight brickwork makes it more difficult for soundwaves to travel through.
A quick and easy solution
What's great about a parge coat is that the application process is very simple. All you need to do is apply a continuous coating of at least 6mm over the entire brickwork. This can be applied by hand or by spray, and you won't even need to trowel it flat! Although a parge coat is a simple product that's really easy to apply, the benefits are far from small. This handy product can help you to deliver homes that are both comfortable, energy efficient and futureproofed against any upcoming regulations.
For more information on how you can ensure airtightness in the home, visit the Jewson hub or the British Gypsum website.