What Type of Timber Do I Need?
​​​​​​There are many (many!) types of timber available in a whole range of species. It can all be a bit daunting and confusing to choose the best type for your work, so we've done the hard work for you and put together this guide of common types and uses. Of course, our expert branch colleagues can provide even more advice, and will show you to the timber area where you can pick out the pieces you want.

​​​​​​​
Redwood & whitewood timber - decorative
​​​​​​​
Lengths of redwood and whitewood boast long attractive lines, making them perfect for work where timber is meant to be seen. Use for wood flooring, treating with varnish and sealant to create a naturally beautiful floor. Keep the nature theme running with skirting boards, handrails and staircases.

 
Carcassing and CLS timber – construction
​​​​​​​
Carcassing and CLS (Canadian Lumber Standard) timber are robust variations which are treated and planed. The durable strength makes these ideal for timber frame construction, studwork and partitioning. Neither will win any beauty contests, however it is usually hidden when projects are finished. Available in a range of grades and sizes, which branch colleagues can provide advice on. 
 
Green & brown treated timber – fencing and landscaping
​​​​​​​
Green and brown treated timber are designed to last in outdoor conditions, withstanding weather, general wear and tear and wildlife. Including sleepers, rails and pegs, our green and brown timber can be used to create fencing, decking and other outdoor structures. 
 
Timber batten – roofing and construction
​​​​​​​
Timber battens are machined timber strips which provide high levels of strength for roofing and other supporting construction work. Battens are sometimes dyed blue to represent the specific requirements they have met. Other grades are available, all indicated by a certain colour for your reassurance of quality.
you may be interested in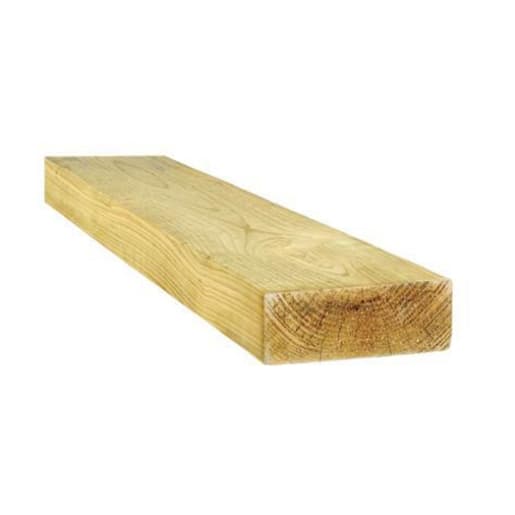 Kiln Dried Regularised Treated Timber 47 x 75mm

Sawn Carcassing Treated Green 19 x 150 x 1800mm

Redwood Decking PEFC 3600 x 125 x 32mm (act size 118 x 26)

Tyrannosaw Single Speed Tandem Saw

Redwood Bullnosed Architrave 19 x 50mm (act size 14.5 x 45mm)

CaberWood MDF Trade FSC 2440 x 1220 x 18mm